25trends SMART is the 1st fully-automated Social Media Analytics Service with full support for Arabic language
How it Works ?
An online reporting service which continuously gathers data from Social Media, analyze and reveals much insights about your Clients, Brands, Products and Services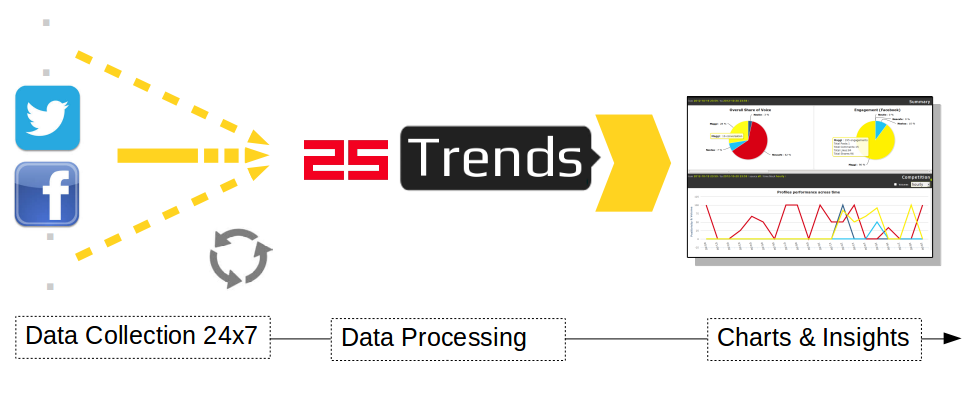 Why SMART ?
We have built this tool to provide Value, to save your Time and Money, and to fill any gaps in other products. through SMART you will gain:

FEEDBACK
Know more about your Clients or Audience on Social Media

COMPETITIVE ANALYSIS
Benchmark and Analyze your Competitors

CAMPAIGN TRACKING
Track & Measure your marketing campaigns

MARKET RESEARCH & REPORTING
Plan ahead, Act fast and support your Decision with realtime Data & Insights

COST REDUCTION
Your team will be able to do More in less time, and you will be able to Scale without additional Human Resources
Who needs SMART ?
You should consider 25trends SMART if you are a
DIGITAL AGENCY

You manage digital accounts, and you need to measure performance and deliver reports

SOCIAL MEDIA TEAM

You are are a Social Media specialist in a company and you are responsible for measuring performance and delivering reports

FACEBOOK PAGE ADMIN

You have a Facebook page with 100k+ fans and you would like measure your performance, know users feedback to adjust your strategies

MARKET RESEARCH

You need to conduct market research on Social Media

RESEARCH

You are a Researcher or a University Student conducting research on Social Media

PERSONAL

You are interested in analyzing Social Media data, or training other people to do so
Pricing
We have 3 pricing plans for different types of users, the minimum pricing unit is "Channel", you can think of it as "A Social Account" or the Source of which your data comes from
Price
49$/Month
per channel
99$/Month
per channel
39$/Month
per channel
Reports
Unlimited
Unlimited
1 Report

Companies
Brands
Market Research
Media
Governments

Individuals
University Students/Research
Educational Websites
Research
Training Centers
Charity/Nonprofit Organizations

** We also offer discounts on yearly packages
Supported Channels
Facebook
Twitter
Instagram
Google+
Languages
Arabic
English
Spanish (BETA)
Turkish (BETA)
Pricing Example
Let's assume Nokia Company and a Digital Agency has requested a report to Analyze Nokia's Social Media data and to do a Competitive Analysis with Samsung, the pricing will be as follows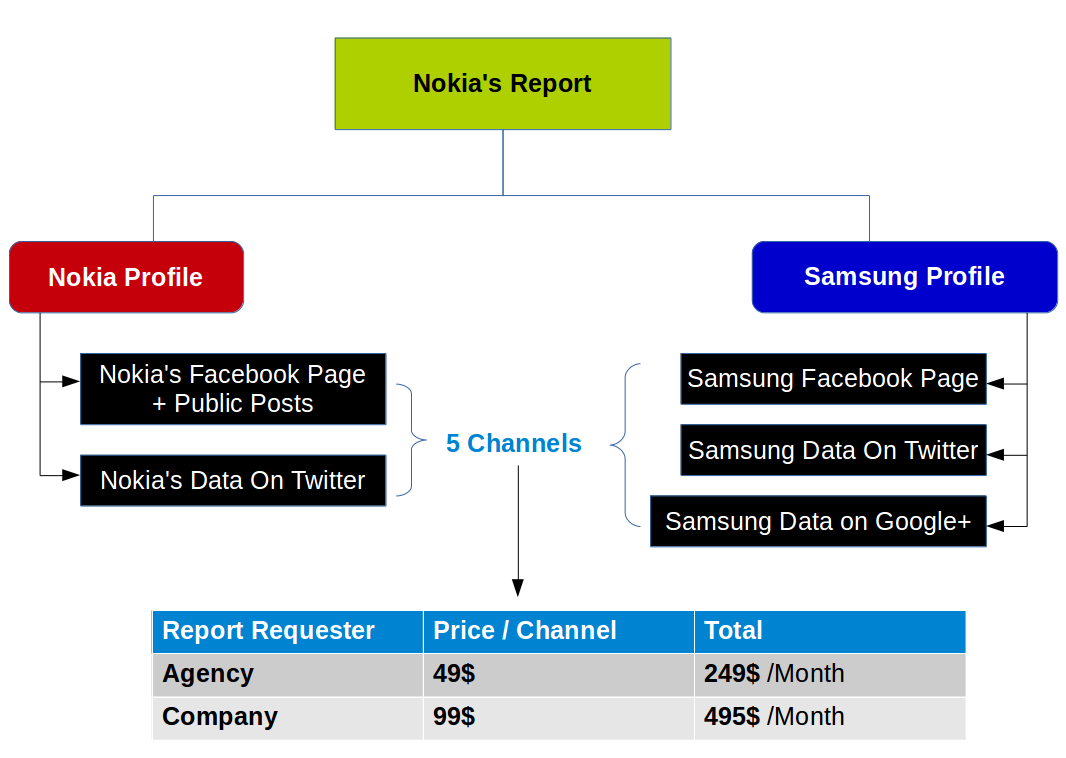 Top
FAQ
How many users are allowed to access the report There is NO Limit on the number of users for each report
How accurate is your Sentiment Analysis 75%-85% For Arabic & English languages
We don't have accurate numbers yet for other languages
Why Youtube is not part of your Channels We already have a FREE service to Analyze youtube videos, check it out here
But we don't think it will be worth adding to SMART since there are not much comments per day on Youtube to be analyzed, if you think we are wrong please let us know to reconsider
What about Browsers Support Firefox, Chrome & Safari are supported, but please note that safari is not supported in the report creation section
---
Your question not answered ? please send it to info(@)25trends.me